Intertradedocs
Export documents and international trade documents, quickly and easily.
User Guide, Help and Support
Welcome to Intertradedocs!
We hope you'll find it straightforward and simple to use.
We've put this set of help screens together so you can go through your early shipments step by step as you work.
Use the clickable Navigation Menu on the left to go straight to the information you want - or read through using the forward and back links at the bottom of each page.
Finding a help topic
To search for help about a particular topic, click in the left-hand Contents panel and press control-F. Type the topic into the search box and press Enter.
Topics matching your search will be highlighted in the Contents; click on the most appropriate topic and the content will appear in the right-hand panel.
Feedback
We welcome your feedback about Intertradedocs and these help pages. Please use the links on the Contacts page to get in touch.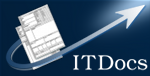 (c) International Trade Documents 2013