Listing and Searching
When you click on Products List in the Navigation Bar, or click the List and Search for Products link on the Main Menu, you are taken to the Product List screen: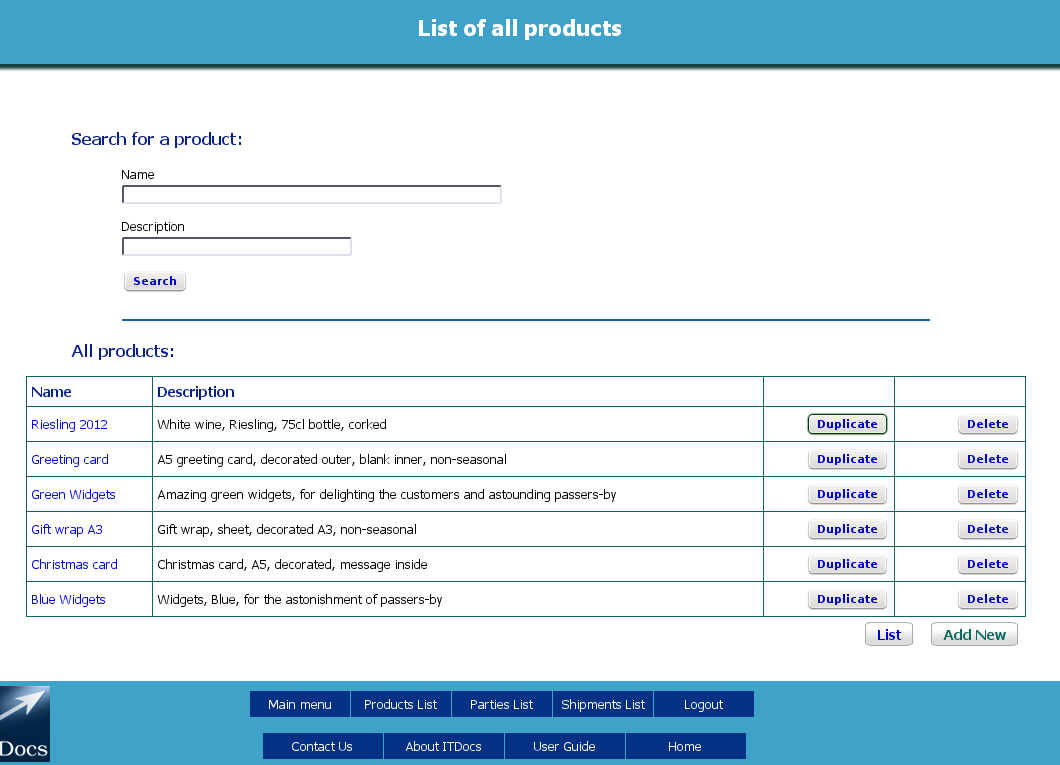 The Products List - search boxes above, list of products below
As with the Parties List screen, at the top of the screen you find the boxes for searching through your list of Products. This can be helpful if you have many Products.
Searching for Products
You can search by any or all of the search fields you see; just fill in the details you know, and click Search.
Name in this search box corresponds to the Name/Short Description in the Add Products screen; if you type in part of the name - whether the beginning of the name or not - and click Search or press Enter, ITDocs will return a list of any Products that match that search.
If you use Product Codes instead of short descriptions, and find them difficult to remember, you can search on the long description instead; simply enter part of the description and click Submit or press Enter.
If there are no results returned, you can return to the search by clicking List, and re-try the search; if the product is not in your database, you can click on Add New and add the product.
The Products List
As with the Parties list, the layout is the same whether you are looking at the full list or the results of a search:
Name - corresponds to the Product Name / Short Description you entered when the Product was added;

Description - corresponds to the Long Description of the Product.

Duplicate button - to duplicate the selected product with a temporary name (e.g. [DUPLICATE]:Wing Jack). See Duplicating a Product for detailed information.

Delete button - to delete a product from the database. Use this with caution, as it will delete the product completely without further questions.
Click on the product name in the list to go to the Review screen for that product. There you will be able to edit the product.