Reviewing a Shipment
When all the data entry screens are completed as far as possible, you are automatically taken to the Review screen: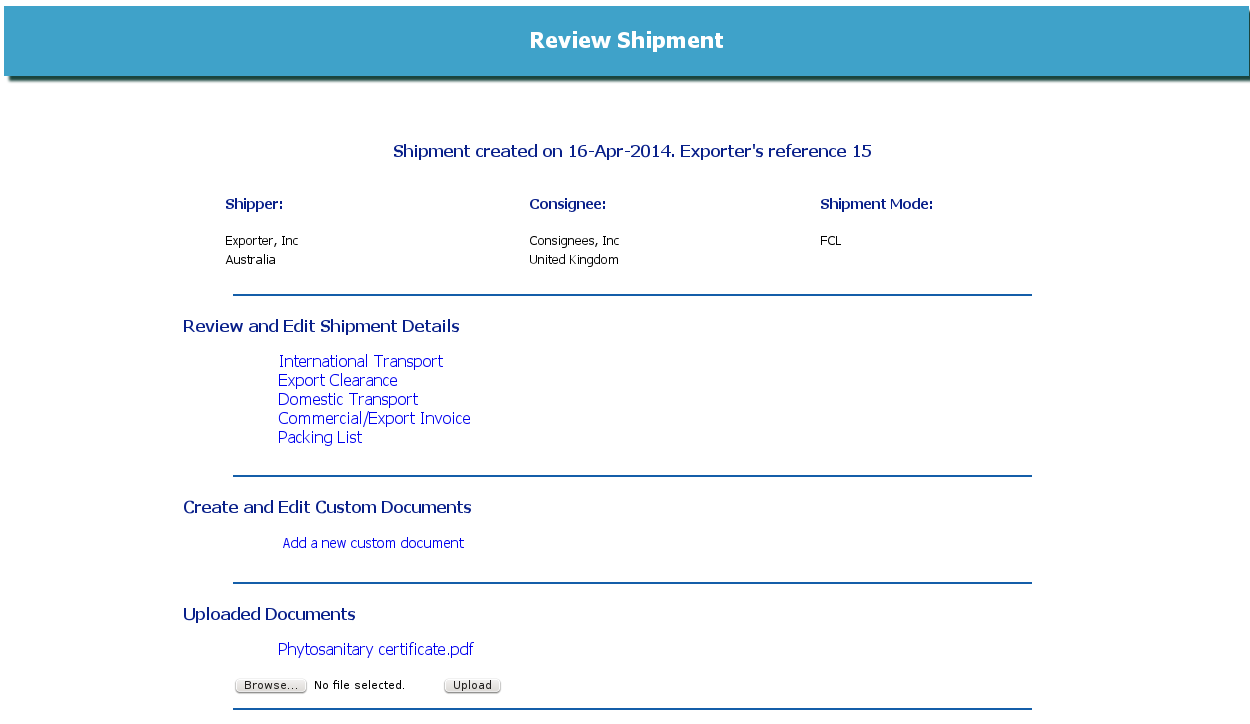 The Review Shipment screen, top
At the top of the Review screen, you will see an overview and then three sections to help you review and edit the data you have entered for the shipment, add any Custom Document data you need and review and edit the data on facsimile export documents before producing the final documents.
Review and Edit Shipment Details
Here you find a link for each of the data entry screens. Click on the link for the appropriate screen; it will contain all the data you have entered and saved. You can now add missing data or edit existing data as necessary.
Create and Edit Custom Documents
Here you can add or edit data for a customised document to add to the core documents. See the section The Custom Document for detailed information.
Review and Edit the Export Documents
This section allows you to choose a specific document and review the data as it will appear in the final version. Use the drop-down list to choose the document, and click Review to see it.
Use the back button in your browser to return to the Review screen once you have finished reviewing or editing.
Several of the areas in the header area of the document are editable: click in the data in any area and if editing is available, a text entry field will open where you can edit the information.
When you are editing data, make sure that there are no spaces in the field before or after the new data. Edit or enter the new data and press Enter, and the data will be saved to the shipment.
If you delete any required information, an error dialog will be shown, and the data will revert to its previous state.
For more detailed information with screen shots, see the section Reviewing the Export Documents.
Export Totals, Export Shipment, Commerce Plus
These buttons perform extra functions. See Export Totals [Link target "export-totals" not found], Export Shipment and Commerce Plus for the details on when these buttons appear and what they do.
Choosing and Producing Export Documents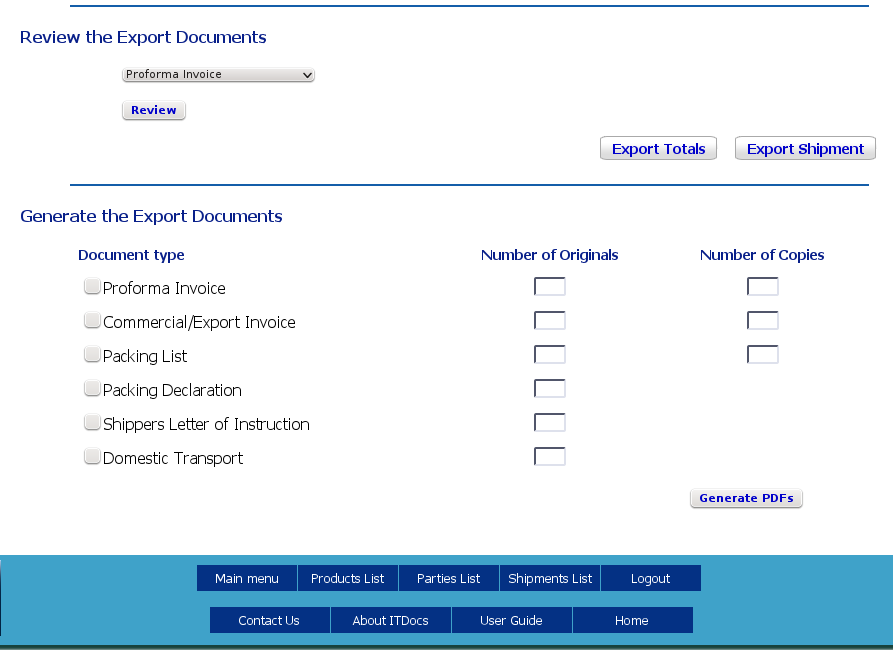 The Review Shipment screen, bottom
At the bottom of the screen is the area where you choose which documents to generate, and how many originals or copies of each.
< Creating a Shipment - Packing List | Exporting Shipment data >